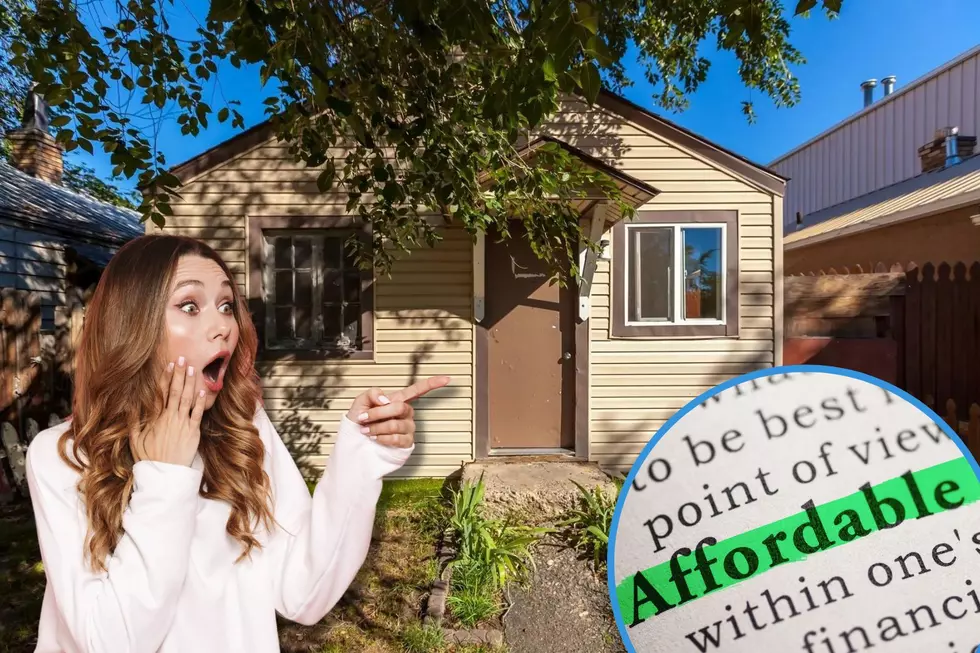 The Least Expensive House On The Market in Grand Junction As Of December 2022
BRIDGETT RENTIE with Keller Williams Colorado West Realty, LLC / Canva
It's a new month and almost a new year. Are you looking for a home in Grand Junction, Colorado? If so, this is the least expensive house on the market in Grand Junction as of Thursday, December 1, 2022.
There are plenty of posts featuring the most expensive and luxurious homes for sale. How about something practical and affordable? Take a quick look at a property that might make for a wise investment.
The Least Expensive House For Sale in Grand Junction, Colorado
For our purposes today, this search was narrowed down to houses available for immediate occupancy. You'll find this charming little house at 1028 Ute Avenue in Grand Junction, Colorado.
Features For This Home
The home, built in 1939, is a single-family home, zoned for both commercial and residential occupancy. According to Realtor.com, the home features:
504 square feet
3,049 square foot lot
1 bedroom (13' X 8'4")
1 full bath
Ceiling fan(s)
Newer appliances
Newer windows
New roof
Reasons To Consider a Smaller Home
There is such a thing as having "too much house." When my parents died, I inherited their large home, and with it, their mortgage. I made the decision to sell my modest home and move into their large house with a large lot. That was three years ago. Looking back on the last three years, working on that house and yard is about all I've accomplished. If you're a homebody, that's fine. If you're a young person trying to launch a career, you don't need the headaches of a large property.
The website Becoming Minimalist offers "12 Reasons Why You'll Be Happier In a Smaller Home":
Smaller homes are easier to maintain
You spend less time decluttering
Smaller homes are less expensive
Living small means you go into less debt and less risk
Owning a smaller house is mentally freeing
Smaller homes have a smaller environmental impact
You free up more time (give serious thought to this one)
Smaller homes encourage family bonding
Downsizing your home forces you to remove baggage (give thought to this one, too)
Smaller homes lessen the temptation to accumulate
You're less obligated to decorate
Smaller homes are in a wider market to sell
Now For The Bad News
This listing at Realtor.com states the sale of this home is "contingent." According to Rocket Mortgage:
A property listed as contingent means the seller has accepted an offer, but they've chosen to keep the listing active in case certain contingencies aren't met by the prospective buyer.
In the past, I've purchased homes that had been listed as contingent. It occasionally happens; the contingencies aren't met by the prospective buyer, and the contract falls through.
Waylon's Disclaimer
I am not a real estate agent, nor do I own this property. I don't know the owners or the listing agent. At the end of the day, I have absolutely no interest in this property. In the past, my investments have occasionally involved the purchase of income properties. From time to time a property in Grand Junction catches my attention. When that happens, it's my assumption the property may be of interest to you, maybe for a personal residence, or perhaps as an investment.
Keep An Eye On This Property
This is the least expensive house for sale right now in Grand Junction. If you're looking for an affordable home, this may be it. If you are looking to invest in income properties, this listing would be a good starting point. In any case, take a quick tour of the home via the gallery below.
The Least Expensive House On The Market In Grand Junction For December 1, 2022
We're kicking off a new month, and wrapping up the year for 2022. Here's a look at the least expensive house currently on the market in Grand Junction, Colorado.
Check Out Grand Junction's Historical Residential District
The North 7th Street Historical Residential District is the only one of its kind in Mesa County.
$5.7 Million Vail Home Tucked Away in the Mountains
A home for sale in Vail carries a $5.7 million price tag, but is nothing short of impressive all around and is tucked away in the high country.