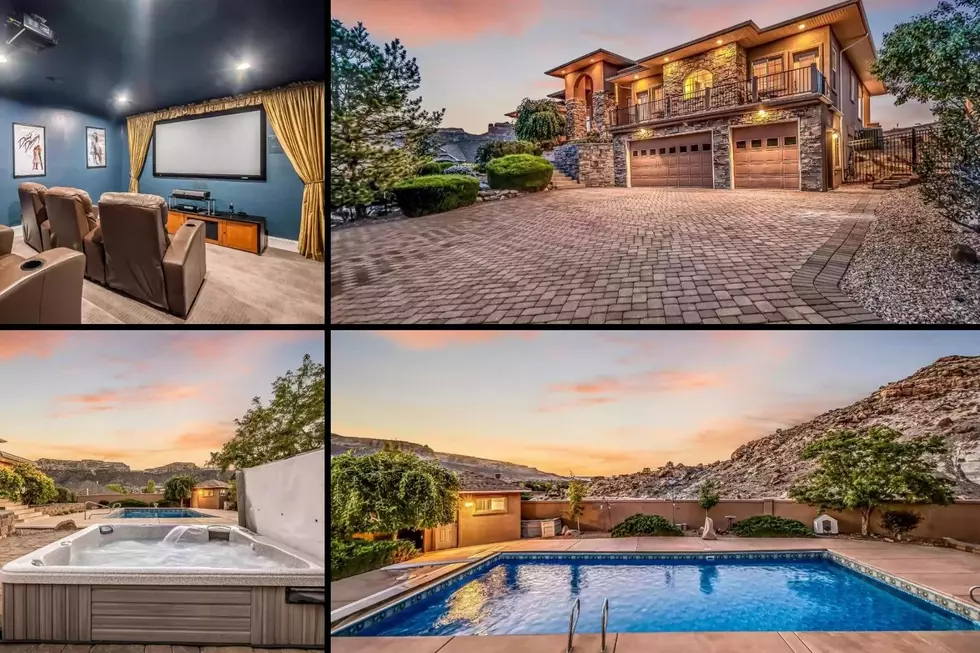 Redlands Home Includes Amazing Views of the Colorado National Monument
Realtor.com
There are some wonderful homes back in the Redlands area as you approach the Colorado National Monument. Have you ever wondered what it would be like to live here?
Today we are headed down South Camp Road in the Redlands. We are visiting the end of a cul-de-sac named Teegan Court to look inside another Colorado dream home.
Live Close to Redlands Mesa Golf Course and the Lunch Loops
You'll be able to view the Monument, the Liberty Cap, and overlook the Lunch Loops and the Redlands Mesa Golf Course from this dream home on Teegan Court. From the house, just head south on Camp to reach Monument Road and access the trails throughout the area.
Looking for a Home Theater?
Escape from the Grand Junction heat and enjoy your favorite flicks inside the home theater. Two rows of split-level seating make this room extra comfy with room for all your guests.
Live the Dream with a Pool and Hot Tub in the Backyard
The beautiful in-ground pool in the backyard is the perfect place to enjoy the view. Or maybe it's the hot tub? You'll find an outdoor kitchen area back by the pool making this the perfect place to entertain while taking in the monument in the distance.
Scroll on to see the inside and to link to the full listing from Realtor.com.
Redlands Home Includes Amazing Views of the Colorado National Monument
Located just off South Camp Road in the Redlands is an unobstructed view of the Colorado National Monument. This 5-bedroom home includes a pool, home theater, and a hot tub. Scroll on to see the full listing for this Grand Junction dream home.
MORE: Move Into a Permanent Vacation Setting in Grand Junction, Colorado
Check out this Grand Junction oasis for sale off Patterson Road. Centrally located, this home includes a pool and a hot tub, and million-dollar views of Mount Garfield. You'll love the backyard pool and hot tub, plus all the windows in this home that show off your beautiful surroundings.
MORE: Colorado's Smallest Home for Sale is 125-Square Feet
If you are living the minimalist lifestyle and you don't have a family, living in a tiny home is a great way to get by on a tight budget. Scroll ahead to take a closer look at this 125-square-foot Colorado home. You might be surprised at how appealing it is.