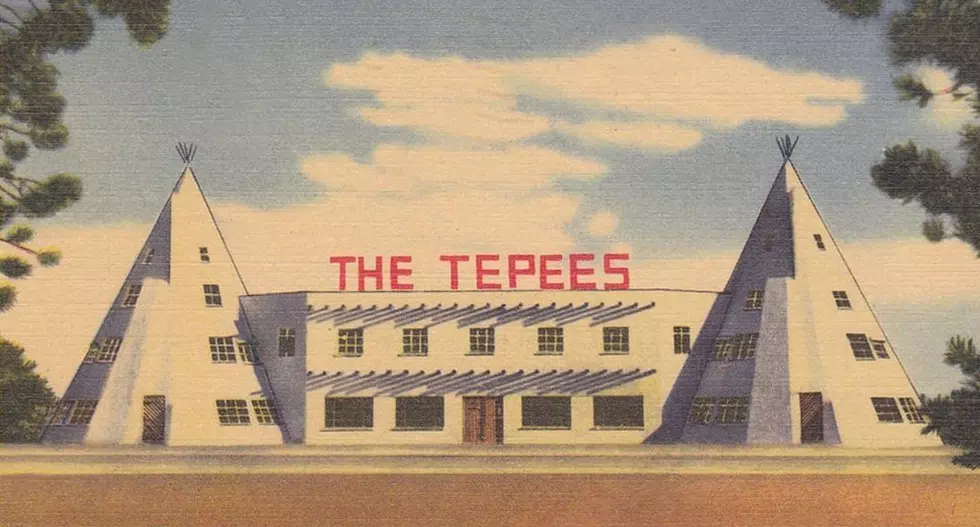 Do You Remember this Once Prominent Colorado Landmark?
Vintage Postcard
Many historic landmarks still remain standing in Colorado to this day, but others have disappeared, only lingering in the memories of locals who can continue to pass on stories of what once was.
One former Colorado landmark that's now been gone for more than 50 years was The Tepees in Golden.
This unique commercial building was located about 18 miles west of Denver at the intersection of U.S. Highway 40 and Highway 74. According to GoldenToday.com, during the 1950s and 1960s, many Coloradans would refer to "turning at the Tepees" when explaining to others how to get to the town of Evergreen.
In its heyday, the building boasted of having the "world's largest teepees." The architectural design came at a time when glorified images of the west were extremely popular throughout the country.
The Tepees was a combination of a souvenir shop and a lively restaurant that offered dancing and cocktails. The destination also included a rattlesnake pit, which had an admission fee of just fifty cents. Besides the shop and restaurant inside, many tourists just stopped to take photos at this local landmark as they traveled across the scenic highway.
The once thriving business was reportedly demolished in the 1970s. Despite its disappearance, many Jefferson County locals still remember The Tepees as being one of the best restaurants in the area at that time.
Nowadays, modern businesses have taken over the land where this iconic red and white building used to stand.
Crags Hotel Ruins Hike