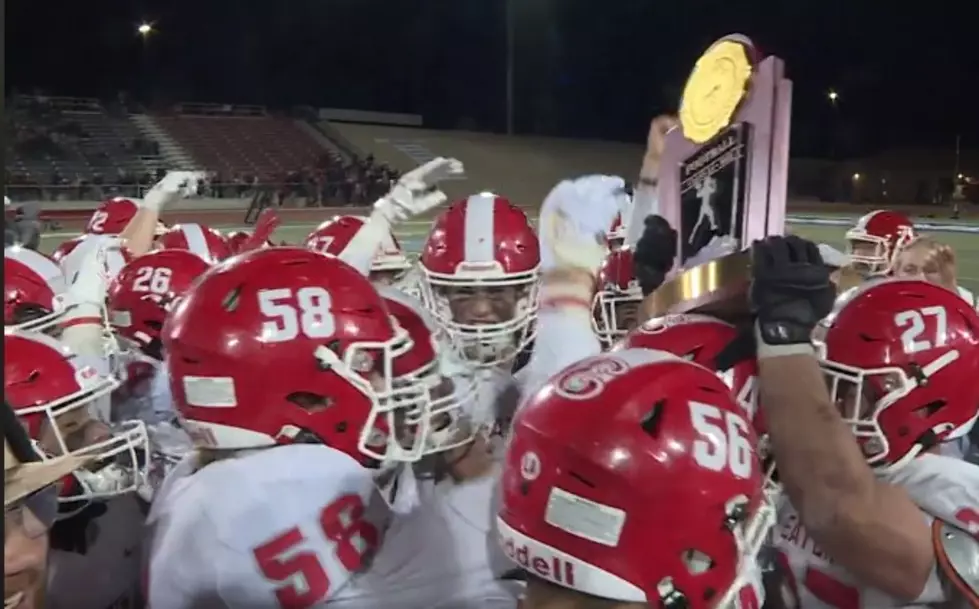 Watch: The Eaton Reds Three Peat As State Champions
Facebook/9 News
We love recognizing local student athletes, especially when they do something as epic as winning a state championship.
The Eaton Reds football team not only won a state championship over the weekend, they did it for the third consecutive year as their run of dominance in the 2A division continues in the entire state of Colorado and they put an exclamation mark on the season by capping it off with a big three-peat on Saturday.
The 2nd ranked Eaton Reds defeated the #1 seeded Delta Panthers in a hard fought game by a final score of 21-10. That's 3 in state titles in 3 years, they got a great thing going on in Eaton and there is certainly some civic pride there as well...and understandably so.
Here's a recap of how things went and exactly how the Reds brought back another state title back to Weld County. Made it a three peat!
Being a student athlete is hard work and being a successful student athlete both in the classroom and on the field/court of play is even a bigger challenge and that's why this is so cool to see.
We would like to congratulate the team, coaches, parents of these kids, the school and all of Eaton on another state championship.
Congratulations all the way around, we're happy and proud to have another trophy being brought home to Weld County.
All the Athletes That Once Called Colorado Their Home
We have compiled a list of athletes who were either born in Colorado or have lived in the mile-high state. Scroll through the photos below and see how many of these Colorado athletes you can name.
Ten of the Best Athletes Born in Colorado
While when you think of
Colorado
athletes, some of the people who come to mind are John Elway, Peter Forsberg, and Peyton Manning, none of them were actually born in the Centennial State.
Here are ten of the most famous athletes from the great state of Colorado.