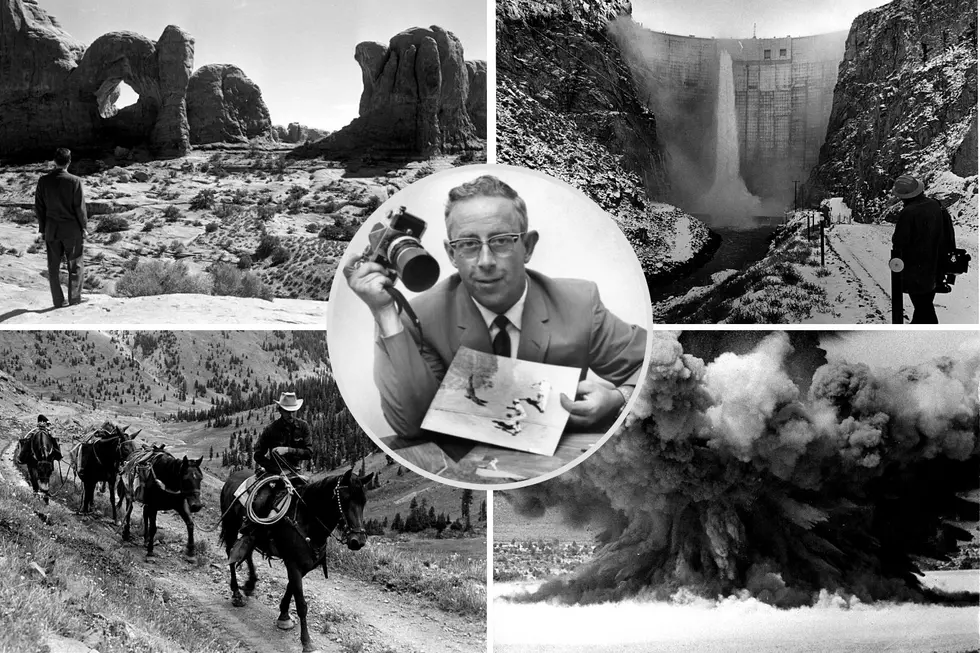 Historic Colorado + Utah Photos from Robert Grant You Must See
Robert Grant / Canva
Take a little trip back in time to Colorado and eastern Utah of yesteryear. This gallery offers 30 images lifted from negatives from the personal collection of Grand Junction photographer Robert Grant.
The images below were selected completely at random. As luck would have it, some shots reflect content recently discussed in a podcast focused on Bob's career.
Negatives Selected At Random From the Collection of Robert Grant
Now that tens of thousands of Robert Grant's prints have been scanned and made available, it's time to start in on the negatives from his personal collection. Considering the prints took 22 years to sort, scan, edit, and share, the task of archiving an even greater number of negatives should consume the rest of my life.
The images below were selected entirely at random from a group of roughly 300 scans. Originally, 37 images had been pulled, but seven of those shots contained content I deemed unsuitable for this gallery.
Bob Grant's Career Discussed On Newly Shared Podcast
The sharing of Bob Grant's collection of photographs was the topic of a recent podcast featuring Grand Junction area artist/photographer/entrepreneur Pat Olson. We discussed the challenges associated with the content of many of Bob Grant's images. Keep in mind, Bob was a photojournalist, frequently covering events such as crime scenes, plane crashes, fires, automobile accidents, drownings, and countless other horrors.
For this gallery alone, I grabbed 37 scans at random. One image involved the removal of a transient's body from a freight car at the Grand Junction railroad yard. Another shot included graphic footage of the three teenagers killed in a jeep accident. Yet another shot featured the removal of a body from a car that had plunged into the Gunnison River.
Sharing These Images Can Be Difficult
Most of these images were taken at least a decade before I was born. Like most of Bob Grant's prints and negatives, little if any information regarding the content is provided. I have no idea who these people are, or where these images were taken. In some cases, the location is obvious. Including landmarks in the shot was one of Bob's trademarks.
Like I Always Say...
Keep your eyes open for people you recognize. Nearly 100% of the time someone recognizes the face of someone featured in the gallery. I'm frequently contacted with information shedding a little light on those featured. It would have been nice if Bob had jotted down a few notes when storing his photographs, but unfortunately, that was rarely the case.
30 Random Negatives From the Personal Collection of Robert Grant
The gallery below consists of 30 images lifted from negatives belonging to late Daily Sentinel photographer Robert Grant. For the purpose of this gallery, a number of scans were selected completely at random. From that batch of 37 scans, seven of the images featured content not suitable for this gallery. One image removed from this collection featured the bodies of three Grand Junction area teens killed in a jeep crash in Unaweep Canyon. Another image removed involved emergency personnel investigating the death of a transient in a freight car at the Grand Junction railroad yards.
34 Random Photos To Celebrate Robert Grant's 99th Birthday
Friday, May 27, 2022 would have been Daily Sentinel photographer Robert Grant's 99th birthday. In honor of his special day, here are 34 random photos by Robert Grant.
Classic Grand Junction Colorado Photos Found in a Box - Robert Grant
These photos were selected, or perhaps more accurately, grabbed from a box of random photos from Grand Junction photographer Robert Grant. In some cases those pictured can be identified. In others... not so much. Keep an eye out for someone you recognize.