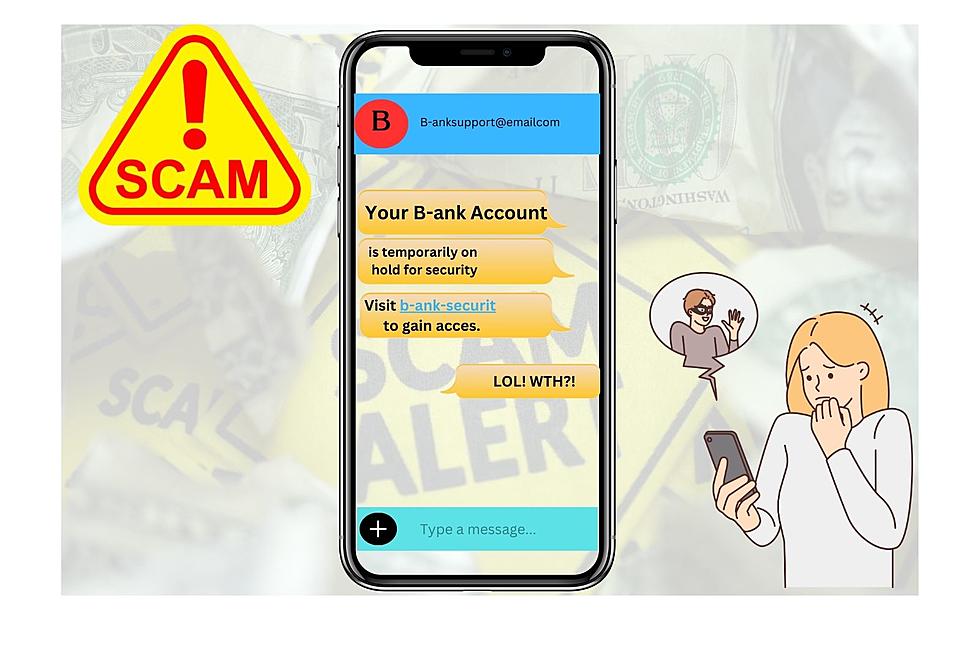 Beware of This Scam If You Bank in Colorado
Canva
There are so many scams nowadays. You get them by phone, by email, and by text messages. Many times, you can tell it's a scam, but sometimes you can't.
I got a text recently from my bank saying that my account was locked. The "click here" link didn't have anything to do with my bank, and it contained incorrectly spelled words. I didn't click on it.
According to a press release from Alpine Bank, cyber thieves are targeting bank customers by sending fake texts and emails that are designed to gain access to confidential bank account information throughout Colorado and beyond.
How does the scam work?
You receive an email or text saying that you've been locked out of your account, or that suspicious activity (of your account) has occurred. The message wants you to click on a link that will connect you to a fake bank website. You are then asked for login information. Once you provide that information, the cybercriminals now have your confidential information. Other times, you might get asked to call a fake bank phone number, where one of these thieves, posing as a bank employee, will ask for your login information. As these criminals attempt to perfect their scam, the emails and texts as outlined here, may take on a variation of some sort.
If I receive one of these texts or emails, is it possible that my bank is really trying to contact me?
Bank customers, in general, should know that a legitimate bank will not ask you for your login information. They will not call you or text you to ask for your user ID, passcode, PIN number, or any similar information. With this type of identity theft scam, it is more likely that the criminals behind it have no knowledge of your identity. They are hoping you will provide them with the sensitive information they are looking for.
If I received a scam email or text, what should I do?
If you receive an unexpected text or email telling you something is wrong with your bank account and asking you to call a number or click a link, do not click, or call or respond to the message. Instead, report it as fraud. If you have further concerns, be sure to contact your bank, using the bank's main phone number, or personally visit your financial institution. Above all, remember to keep your sensitive information private.
Scams are on the rise. Here are more to be aware of, no matter where you live.
Mesa County Sheriff's Office Says Watch Out For These Scams
There are currently 7 different scams that the Mesa County Sheriff's Office wants you to watch out for.
LOOK: The biggest scams today and how you can protect yourself from them