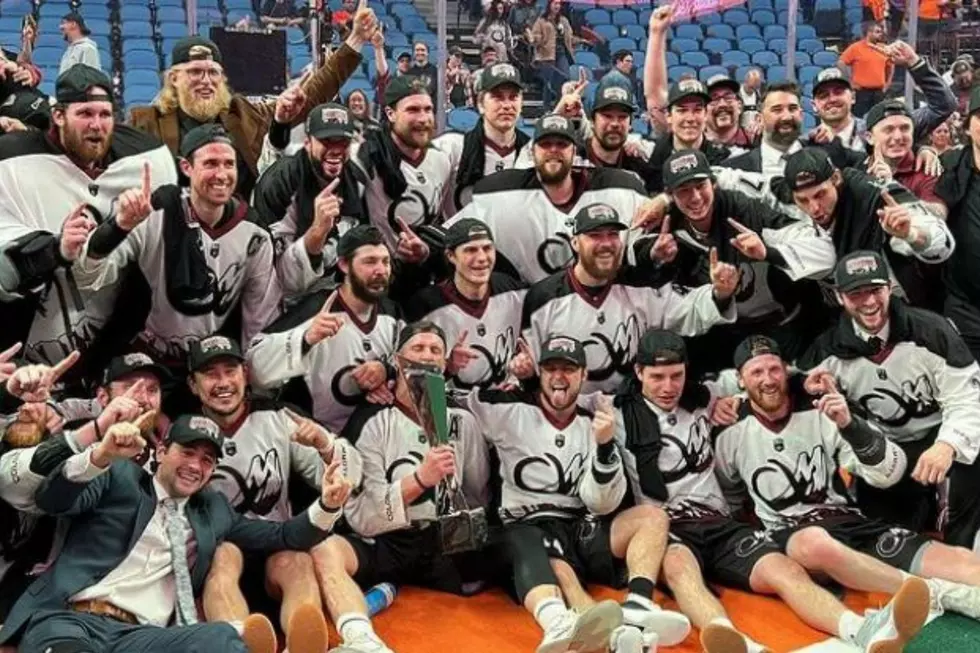 The Colorado Mammoth 2022-23 Schedule Is Here And Fans Are Excited
Courtesy of the Colorado Mammoth
The Colorado Mammoth are ready to get back on the floor and defend the NLL Cup and we're one step closer to that as their 2022-23 schedule has finally been announced.
Colorado Mammoth 2022-23 Schedule Is Here
Since 2003 when the team debuted in Denver, the Colorado Mammoth has won the NLL Championship on two separate occasions. In 2006, when they beat the Buffalo Bandits in the NL Finals, and again in 2022, when they beat, ironically, the Buffalo Bandits once again. After one of the craziest post-seasons I've ever seen as a long-time Mammoth fan, the boys came out on top, and the fans have been impatiently waiting for more Mammoth LAX so they can celebrate the Cup in person with the team. That time is coming...
What Is The 2022-23 Colorado Mammoth Schedule?
The team announced the upcoming schedule as they defend the cup in the 2022-23 season. Let's take a look at things are shaping up as the Colorado Mammoth get ready to "run it back."
To the surprise of many, the Champs will start their season on the road for the first two games.
December 3: @ Saskatchewan Rush
December 17: @ Panther City Lacrosse Club
Here's the good news, they'll get four home games in a row so fans will have plenty of NLL Champ action to kick off the New Year.
January 7: vs. Calgary Roughnecks
January 13: vs. Saskatchewan Rush
January 28: vs. San Diego Seals
February 3: vs. Georgia Swarm
Three-game road trip for games 7, 8, and 9.
February 4: @ Las Vegas Desert Dogs
February 11: @ Calgary Roughnecks
February 18 @ Panther City Lacrosse Club
Back home at Ball Arena for a couple of weeks.
February 24: vs. Panther City Lacrosse Club
March 10: vs. Calgary Roughnecks
Buffalo will be fired up for this "re-match" game in March.
March 18: @ Buffalo Bandits
March 25: @ Vancouver Warriors
March 31: vs. Las Vegas Desert Dogs
They will kick off April at home two for back-to-back home games.
April 8: vs. Vancouver Warriors
April 14: vs. San Diego Seals
The last two games of the regular season will take place on the road.
April 22: @ Saskatchewan Rush
April 29: @ San Diego Seals
With 6 Friday games, and only 3 on the traditional Saturday time slot, not to mention starting the season on the road, some fans have been fairly vocal about this schedule, but the bottom line is no matter the night, or location, the Mammoth are here to defend their Championship and we're excited to watch them kick off this five-month journey back to glory. Go Mammoth.
25 Awesome Colorado Avalanche Stanley Cup Parade Pictures
The 2022 Stanley Cup Champions, Colorado Avalanche, took over the streets of Downtown Denver on June 30th, 2022, to celebrate the team's third Stanley Cup Championship, and we were there for all of the action.
Colorado's Newest Action Park Is Now Open And It's Awesome
We got to visit Colorado's newest action park and it was so much fun. These slides get some serious air!